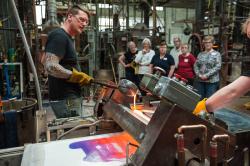 Production/Warehouse Worker
Featured
2021-04-01 Bullseye Glass Co. 3722 SE 21st Ave $16.30 hour
Description:
Position Title:  Flexer, full-time
Schedule:        Monday - Friday, 7:30am - 4:00pm
Bullseye Glass Co., a Portland based international manufacturer of the world's finest art glass is in need of a versatile person who will enjoy being a valued member of both our glass production and warehouse departments. We offer benefits such as: Medical and Dental insurance; 401(K) Retirement plan with matching; Paid Time Off; Holidays; Wellness Benefit; Studio access, and Bonuses. Check us out:  www.bullseyeglass.com

The Production Flexer will work part of the day supporting our foundry team turning molten glass into beautiful sheets. While the other part of the day will be supporting our fast paced warehouse: building wooden crates; packing crates; stocking and pulling sheet glass. 

Qualified candidates must be a team player, safety conscious, work well with minimal supervision, have good attention to detail, good communication and organizational skills, and the ability to lift 50-80 pounds.

Please include "Flexer" on the Subject line. 
Do not contact this company in solicitation of any product or service.